It was more than just a day of celebrating global awareness. A unique piece of the day—combined with excitement and intellect—saw students at Oldfields School in Glencoe, Maryland, actually "teach" their peers and teachers about their cultures.
Held every other year, Global Awareness Day at Oldfields School presents a vibrant learning opportunity to the entire student body, and aside from students teaching, parents and other guest speakers are invited to teach as part of the celebration.
This year's all-day event on April 7 was packed with excited activities including entertainment and sport.
Nada Brahma, a group that specializes on world culture through music and dance, was on hand to perform emphatically on stage and teach students about the value music brings to different cultures.
Among guest speakers invited to teach was Ibrahim Dabo, who spoke about his country, Sierra Leone and his journey to Baltimore, Maryland.
"I taught two sessions at Oldfields School both of which were highly interactive. The students asked vital questions, and some had very interesting comments to share, too. I was highly impressed with the intellectual abilities of some of the students I spoke to," Dabo said.
"I also loved the environment. Oldfields School is the first boarding school I have visited since I came to the U.S. in 2004, and as one of the top all-girls boarding school in the county, 'teaching' there meant a lot to me in a very special way."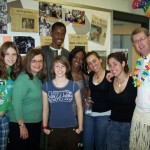 Francisca B., who hails from Ghana, said Global Awareness Day is very important to her because it gives one an opportunity to express their culture.
"During the school year we don't get to see much of each other's culture and where we are from yet we know that a classmate may be from China or Nigeria, and even from other parts of the world," said Francisca, who was among "teachers".
"I feel it exposes us, as a community, to learn about one another. I was teaching a class about Ghana so it was really nice for people to ask questions about my culture (music, lifestyle, history) and my mother was also there to talk about her experiences growing up in Ghana."
Rikki M., a native of Tanzania, said Global Awareness Day is meaningful for many reasons. She said learning about the background and culture of her colleagues through their teachings is important and different from any other day's interaction.
"For example Rayven spoke a lot about California and there were a lot of things she said that I did not know about," Rikki said.
"We have a lot of cultures here so it's just a chance for us to get to know everybody in a more personal way and with their background as well," said Marguerite C., who is originally from Virginia.
"With the students teaching, it's good to see how close they are to their culture and how important it is to them."
Rayven V., originally from California, has taught in the last two Global Awareness Days. This year she spoke on "Surfing USA, the history and Culture of Southern California."
"It's really nice to see people come together and want to learn about different cultures, not just because they have to be there but when the students are there they show a genuine interest in what you're doing," Rayven said, adding, "and it really shows us that we are a global community."
Talking about her teaching experience, Rayven said, "It's definitely a lot of work when the role is switched and you've gone from being the student to the teacher, but it's a great way to express yourself because you're not just listening to what someone is telling you.
"You get to hear more personal side of things and you get to hear about what's really true and dear to people and their culture. It's not just what you can learn from a History Channel or Discovery Channel, it's very personal and I think that adds a nice touch to it when you get to hear stories from the heart and not just from a book."
Amber A., a New Jersey native, said, "I'm just naturally a curious person so I am always interested in learning about different cultures. And it means more when it's coming from people you know. I've learned so much about different people here and I think that's kind of what makes us closer. It's much more unique and embracing."
Bryanza D., also from New Jersey, said, "Global Awareness Day is important to me because when I go to college I plan on majoring in International Affairs. So I can kind of take this day in and get a taste of what I am getting into in the very near future.
"It is really cool to watch my classmates present and then people who I don't really deal with everyday to see how they teach because I feel like as an American, I am very ignorant to different things that go on outside the country."
Having spent 30 years at Oldfields School, Ansley Smithwick, dean of Academic Affairs, said Global Awareness Day is important to the entire community.
"Due to the intensity of the preparation, we only offer it every other year and I think that it has been in its present format (students actually teaching the sessions) for about 15 years. Years ago, we used to have a Language Day offered every year in the spring which took place around classes," Smithwick said.
Smithwick said that the current schedule and program is much more interesting and a serious way of highlighting global awareness.
Founded in 1867, Oldfields School is Maryland's oldest boarding school and is situated on 200 acres of land in Baltimore County.
"So much about Oldfield School is unique," Smithwick said, adding that the family-like nature and the true care and concern for each girl's welfare and success are part of outstanding qualities at the school.
Also See:
· Ib's Notes: Harford Day School Celebrates International Day; Ibrahim Dabo Speaks To Students
· EXCLUSIVE INTERVIEW with Ibrahim Dabo – Football United: From civil war in Sierra Leone to USA success, football lends a hand
· Ibrahim Dabo to Speak at Harford Day School on International Day
· Ibrahim Dabo Inspires Lehigh University Students To Become Agents Of Change
· UB's Finest, Ibrahim Dabo and Justin Jones-Fosu, Set to Inspire Baltimore…and then the World
. Ib's Blog Founder, Ibrahim Dabo, Joins Monumental City Medical Society Community Education Advisory Board In An Effort To Promote Health Education, Prevention and Awareness