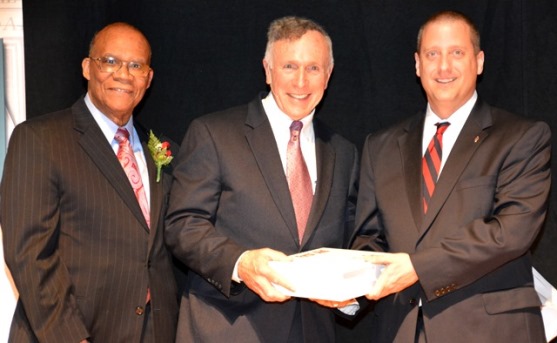 Interviews and report by Ibrahim Dabo
@IbDabo
The American Red Cross of the Chesapeake Region on March 15 honored community heroes in Baltimore at its 15th Annual "Hometown Heroes" celebration, "honoring local citizens and organizations that have worked in extraordinary ways to help others."
Defining the World of Heroism
Although the night was about honoring the Hometown Heroes, heroism from a broad spectrum was celebrated. Such heroism goes beyond the courageous acts of servicemen and women like the military, fallen heroes, or firefighters to encompass everyday heroes—people who demonstrate unusual acts of humanity and citizenship to empower, elevate and inspire others to reach higher heights. Parenthood, sportsmanship, and the indomitable spirit that defies the toughest odds of physical disabilities or limitations to make some of the biggest impact in the world are all attributes of this broad category of heroism worth celebrating.
Regardless of how we define heroes, we can all become everyday heroes by recognizing challenges and conquering them, building bridges and crossing boundaries—whether in our homes, schools, workplace, or through volunteerism, to name a few.
The Red Cross honored hometown heroes, professionals like Ron Shapiro, a leader whose success in so many unique areas have received wide acclaim, and firefighter Lt. Derrick Ready, who puts his life on the line of duty everyday to ensure that our public schools are safe for children to study without interruption from class time as a result of senseless fires.
Keynote Address
The event culminated in an uplifting keynote from Civic Leader Ron Shapiro, recipient of the Lifetime Achievement Award.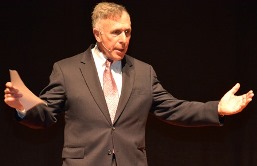 Mr. Shapiro, aside from recognizing the "amazing" work of the Red Cross, shared a keynote that touched on areas such as self-esteem, goals, values, commitment, challenges, courage, perseverance, teamwork and hope.
His keynote was accompanied by video presentations of people whose background or stature makes (or made) success seem almost impossible for them, yet they've defied the odds, and their distinguished actions evidently makes them an everyday hero, and serves as an inspiration for many today.
Shapiro said heroes in the classic sense include people like firefighters and fallen heroes, who perform courageous acts and put their lives on the line of duty and make the ultimate sacrifice to preserve our freedom. He expanded the world of heroes to include people whose daily lives may not involve dangerous missions or jobs but who everyday elevates the lives of others by their actions or examples.
"They may not be heroes in the classic sense, but what they do entitles them to join the class of what I call 'everyday heroes,'" said Shapiro, an expert negotiator, sports agent, attorney, educator and New York Times Bestselling author.
Among three examples Shapiro cited as everyday heroes are Sonya Carson, mother of prominent pediatric neurosurgeon Dr. Ben Carson, and acknowledging the role of so many other parents who put their children's well-being ahead of their own, and "give their children values and guidance to shape futures full of purpose and satisfaction."
Shapiro referenced an incredible act of sportsmanship during a university softball game in 2009. Sara Tucholsky of Western Oregon University hit her first ever homerun but collapsed with a knee injury after running first base. Tucholsky would have been called out if her teammates tried to help her. But opponents—players of the Central Washington University softball team—carried Tucholsky around the bases so the three-run homer would count. This act contributed to Central Washington University's elimination from the playoffs, while Tucholsky lost the rest of her season and career to the injury.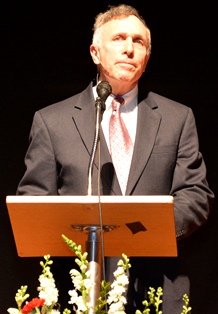 Shapiro said we often see sporting events and think of sport heroes as those who win games, exciting plays, legends or a variety of actions, "yet what we've learned from the girls' story is that there is a greater victory in the sportsmanship that underlies their play every day. It emerges vividly in the actions of the Central Washington University players who carried injured Sarah—an opposing player—to the achievement of her homerun. In actuality, they did a homerun, as everyday heroes," Shapiro said.
Rather more moving was the story of Kyle Maynard, who was born with no arms or legs. Maynard, an author and motivational speaker, has defied the odds to bring hope and inspiration to so many people. Trained in martial arts, Maynard became the first quadruple amputee to crawl to the top of Mount Kilimanjaro—the highest mountain in Africa—on his own.
"Kyle Maynard doesn't claim to have the courage of all heroes. And he is not only climbing mountains, doing speaking tours or winning acclaim, but each day that he lives his life to the fullest—and doesn't fall prey to his disabilities or the excuses he could make as a result of it—Kyle realizes that whatever our physical limitations might be—in fact, whatever limitations we have to deal with might be—we can live our lives beyond those limitations as an everyday hero," Shapiro said.
In an exclusive interview with Ib Talk Online, Shapiro said, "Tonight is not only about 'hometown heroes,' but also about fallen heroes—amazing young people who went overseas to protect my rights to be here tonight and they sacrifice their lives. Tonight is about other people who give back to the community in a major way and make an impact.
"Every human being has the capacity to engage in acts of everyday heroism by doing something unselfish to elevate the lives of other people."
Making Public Schools Safe by Combating Fires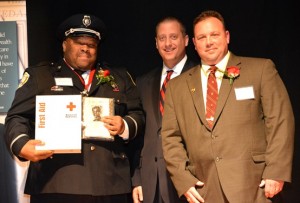 In 2008, Lt. Derrick Ready of the Baltimore City Fire Department (BCFD) was tasked to reduce fires in public school buildings by 50 percent in five years. He received the Red Cross "Homeland Heroes Award" for a pivotal role in reducing the number of fire incidents in 218 schools by 86.7 percent.
"Baltimore was known as the school fire capital of the world," Lt. Ready said in an interview with Ib Talk Online, noting that such a cliché was embarrassing. Things got so bad that the fire department had to deploy a fire engine and truck outside of these problem schools while they were in session, he said.
But the fires, which were set by boys in middle school or high school, were still happening.
"The numbers were going up. In 2008, [Assistant Chief of Administration for BCFD Raymond] O'Brocki challenged me to try to get the school fires down in a five-year period by at least 50 percent. I thought this was impossible because every year the number of incidents will increase," Lt. Ready said.
Crediting his success to good working relationship and collaboration with Marshall Goodwin, chief of police for Baltimore City Schools, and other city officials, Lt. Ready came up with a plan.
"In order to stop fires, you have to prevent them," Lt. Ready said, adding that his notion was, "if police officers should prevent or stop crimes by getting out of their vehicles and walking, then, I said, 'let's walk the halls of the schools as well.'"
School fires went down by 36 percent in the first year, he said. Lt. Ready walked the halls, identifying and acting on things that potentially could be used as a target to set fires, and talking to students and school officials. He believes that education is a key factor for students in preventing fires.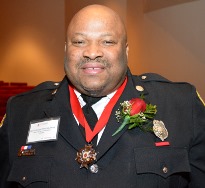 "The good thing about it is that our kids here in Baltimore City can spend more time learning because for every one fire that's inside of a school, you lose 90 minutes or two hours of instruction," he said, while referencing the December 1, 1958 fire in Our Lady of the Angels Catholic School, Chicago, Illinois, that killed 92 kids and 3 adults. He said, "We don't want that to happen here."
In 1992, Lt. Ready was hit by a car that broke both of his legs and his lower back. He refused to take a disability pension from the fire department and his work with the department continues today, where his roles include director/coordinator of the Annual BCFD Fire Safety Camp, the only free fire safety camp for youths on the east coast.
He is a fire investigator, fire inspector, false alarm analyst, public educator, public schools liaison, and juvenile fire setter intervention specialist/director for the BCFD.
Other Honorees & Tribute to Fallen Heroes
Douglas Lent, regional communications officer for the Red Cross told Ib Talk Online in an interview that more than 90 percent of his organization's work is done by volunteers.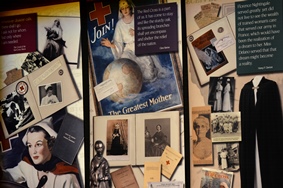 "These are people who go out to [battle] fires in the middle of the night; to help a family that they've never met before, provide them with food, clothing, shelter, and anything they need," Lent said.
"Tonight we're also honoring several fallen military heroes and their families as well. So the definition of hero by the Red Cross is quite broad."
The other honorees were Baltimore Ravens (Chairman's Award), Johnson, Mirmiran & Thompson (Community Impact Award), and Under Armour, Inc. (Mission Partner Award).
A special coin was presented to families of fallen heroes. The six fallen heroes from Maryland, who died in the line of duty in Afghanistan, are U.S. Army Special Forces Staff Sgt. Brandon R. Pepper, U.S. Navy Special Warfare Operator 1st Class Patrick D. Feeks, U.S. Army National Guard Major Robert J. Marchanti II, U.S. Army Specialist Ronald H. Wildrick Jr., U.S. Marine Corps Lance Cpl. Eugene C. "Gene" Mills III, and U.S. Air Force Airman 1st Class Matthew R. Seidler.
"Inclusive Organization Helping the Community"
"The American Red Cross has a number of vital services," Scott R. Salemme, regional CEO of the Red Cross told Ib Talk Online in an exclusive interview.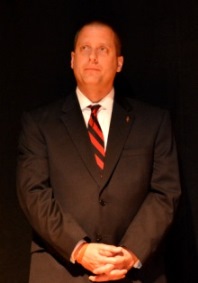 "We're most known for our disaster or blood program, in which we provide blood products to a lot of area hospitals. Every day we help at least three families who have been displaced because of a house fire and we train thousands of people every year to save lives through our Lifesaver training program. Another vital service is that we connect the military and their families with emergency communication messages," Salemme said.
"So we're a very inclusive organization that helps our community."
Salemme said goals for the year ahead are to really enhance the youth program to get more youth and young professionals involved thereby making a better connection between the youth and American Red Cross.
Supporting the Red Cross
Kurt L. Schmoke, vice president and general counsel for Howard University, and former mayor of Baltimore, attended the ceremony to support the Red Cross.
Schmoke told Ib Talk Online, "It's important for people to support the Red Cross because you never know when you or somebody you love would need the Red Cross.
"I remember when I was mayor, the Red Cross used to help when families were burned out of their homes and they had to relocate a family. The Red Cross is usually the first on the scene to help out. They do a wide variety of things that improve the quality of life in the community. My hope is that citizens in the community will also take their time to make a contribution to the Red Cross."
Editor's Note
A beneficiary of the work of the Red Cross, Ibrahim Dabo could not agree more with Mr. Schmoke. In 1997, many escaped a brutal civil war in Sierra Leone, and almost lost their lives at sea. The boat in which Mr. Dabo—and 600 other passengers—were traveling in almost capsized in the middle of the Atlantic Ocean. Many people had fallen sick during the five-day horrible journey and lack of food and water didn't make the situation any better. After such horrible ordeal, it was the Red Cross that first came to the rescue of the passengers with food and medicine aboard the boat when they first arrived in The Gambia. The Red Cross made a big difference in reaching out to those passengers.
Also see:
. IB TALK ONLINE SPECIAL: USO Holds Star-studded Gala and "Honor those who Serve"
. EXCLUSIVE INTERVIEW: USO's Senior VP Frank Thorp IV on his Organization's Unwavering Support of American Troops
. Citigroup CEO Vikram Pandit, Warner Music Group CEO Lyor Cohen, Entertainer Jay-z Honored At Annual Benefit Gala (featuring interviews with: New York City Police Commissioner Raymond Kelly, New York Police and Fire Widows' & Children's Benefit Fund CEO Stephen J. Dannhauser, and Benefit Fund Chairman Daniel J. "Rusty" Staub)
. Exclusive Interview Part I: NBA Champion Trent Tucker Empowers Youngsters to Focus on Education through the All 4 Kids Foundation