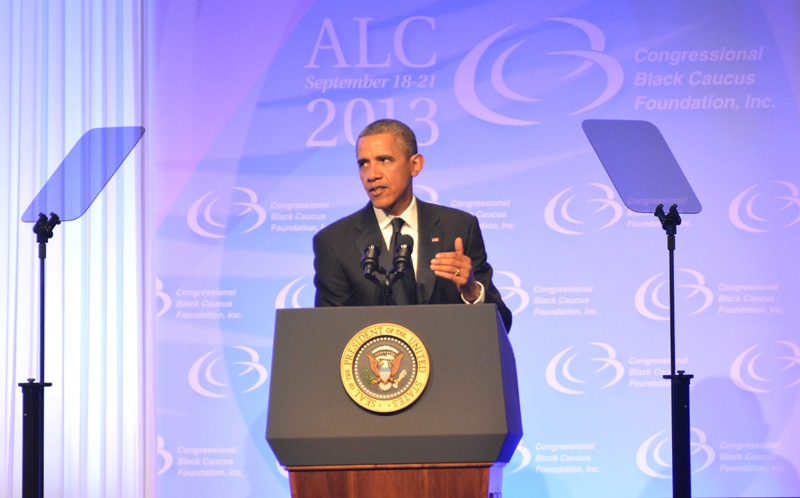 By Ibrahim Dabo (@IbDabo)
President Obama on September 21 gave the keynote address at the Congressional Black Caucus Foundation's 43rd Annual Legislative Conference Phoenix Awards Dinner and talked about issues ranging from health care, education, to gun control.
Few years ago at the Phoenix Awards Dinner, Obama laid out his plans for building a stronger U.S. economy. While he's pursued many of those plans, his message at Saturday's dinner reflects an ongoing challenge of rising above the obstacles faced to reaching those ambitious goals that include providing quality education and health care to millions of Americans.
He sent a strong message and said: "We have come too far. We've overcome far darker threats than those. We will not negotiate over whether or not America should keep its word and meet its obligations."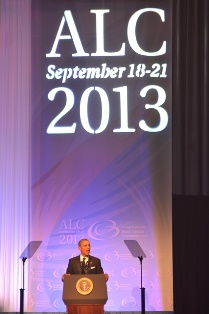 Health Care
Obama said we can't rest until every American knows the security of quality, affordable health care, adding that thanks to the effort of many, six in ten uninsured Americans will finally be able to get covered for less than $100 a month.
"So just think about that. Knowing you can offer your family the security of health care—that's priceless. And now you can do it for less than your cell phone bill. That's what change looks like," Obama said at the Washington Convention Center.
He added that, "If every governor chose to join this project rather than to fight it just to score some political points, that number would be nearly eight in 10."
Speaking about threats to shut down the government if the Affordable Care Act isn't shut down, Obama said, "Let me say as clearly as I can: It is not going to happen. We have come too far.
"We're not going to allow anyone to inflict economic pain on millions of our own people just to make an ideological point. And those folks are going to get some health care in this country—we've been waiting 50 years for it."
Education
Obama talked about the importance of giving every American access to good education.
"We've got to make sure every child gets the best start in life. We want to give every four-year-old in America access to quality preschool. There's no better investment. We should be making it right now. We can afford it. It's the right vision. It's the right time," he said.
Obama said college should be made more affordable for every family and there has already been some progress.
"We've already made college—including HBCUs—more affordable for millions of students and their families through tax credits and grants and student loans that are going further than ever before," Obama said.
He said talks with colleges are underway in order for them to bring down costs. "In a 21st century economy, a higher education is not a luxury, it is an economic imperative, and everybody should be able to afford it, not just a few," Obama said.
Hard Work
A concept Obama shared in previous keynotes at the Phoenix Awards dinner, as well as in this year's address, is that if one works very hard, they'll move on to higher heights.
"When you think about America, when you think about the ideal of this country, a big part of it is the idea of upward mobility, the idea that if you work hard you can get ahead," Obama said. "We can't rest until we offer new ladders of opportunity for anyone willing to climb them."
"It's time for these folks to stop governing by crisis and start focusing on what really matters," Obama said, citing the creation of new jobs, growing the U.S. economy, and the need to tackle violence.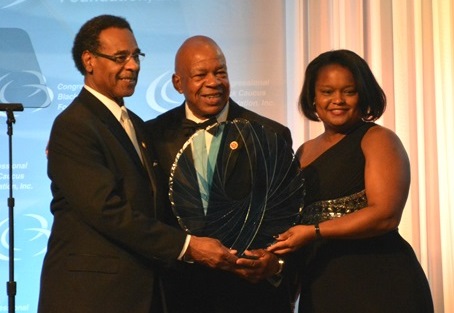 The Phoenix Awards
The CBCF honored exceptional individuals for their service and significant contributions to society.
Below is the list of honorees:
Elaine Jones, Esq. – CBC Chair's Phoenix Award
Representative Elijah E. Cummings – The Harold Washington Phoenix Award
ALC Co-Chairs Phoenix Award – The Spirit of 1963
CBCF Chair's Phoenix Award – The Honorable William Jefferson Clinton
Also see:
A Reflection of the 2012 Phoenix Awards Dinner of the Congressional Black Caucus Foundation
Michelle Obama Addresses the Congressional Black Caucus Foundation's Annual Phoenix Awards Dinner and Urges Citizens to Vote
SPECIAL REPORT: March With Me And Press On, Obama Said In Congressional Black Caucus Speech
SPECIAL REPORT: Obama Determined to Finish Plan on Strengthening U.S. Economy
IB TALK ONLINE SPECIAL COMMENTARY: A Review Of President Obama's Congressional Black Caucus Speech
All-Time Annual Legislative Conference Coverage