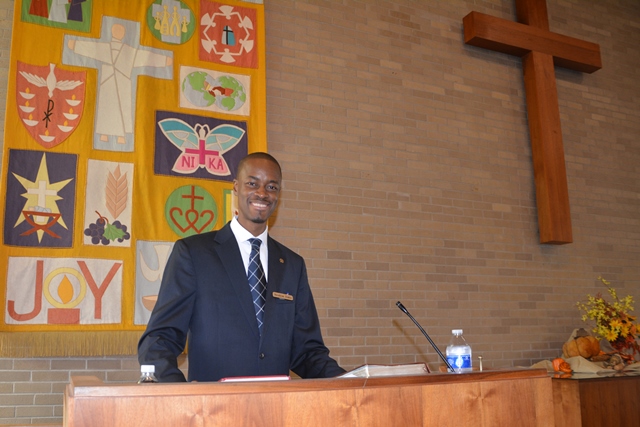 Good morning!!! What a blessed day and I am indeed honored to join you in worship here at St. Matthew's United Methodist Church. Thank you for welcoming me into such a beautiful sanctuary, and thank you so much Debbie for that very warm introduction.
I've enjoyed a long standing relationship with the United Methodist Church: from attending a United Methodist Church and United Methodist secondary school in my country many years ago to serving as a Trustee at Old Otterbein UMC, the oldest existing church in Baltimore City, Maryland.
Despite my relationship with the church, I never once thought of preaching. When I received Pastor Mike's invitation to preach here today, I first thought I misread his email. And so, I read it over and over again to ensure I clearly understood his request.
Later that day I told my fiancé I was invited to preach here and she excitedly and curiously asked what my reaction was. I told her I almost passed out after reading the invitation. Interestingly, she started her Masters in Divinity at Duke University in August, and jokingly [or maybe with seriousness] said her university was still accepting applications for enrollment, so it was finally time for me to join her in the Divinity program at Duke.
I prayed and accepted the invitation, and I am indeed grateful for the opportunity to stand before you this morning to share the word of God.
Please join me in prayers:
Heavenly Father, we thank you for bringing us together this morning on such a beautiful day for worship. I thank you for this wonderful opportunity for me to share your word with your people, and I pray that the Holy Spirit be with me, and speak through me this morning. Open our hearts and minds to receive your word. Thank you for answering our prayer. In Jesus' name we pray. Amen!
I want to talk about a woman named Hannah in the Bible. She was married to Elkanah, who had two wives. Hannah's mate* was called Peninnah.
Hannah had challenges that were a lot bigger than just having a mate*. She was barren, and for many years, had to live with the societal consequences.
During those days, a woman who was unable to conceive children was considered a failure. Children were a very important part of the society's economic structure, and barrenness was a social embarrassment for Hannah's husband. But the Bible says Elkanah still loved her.
Peninnah, on the other hand, had children and would taut and make fun of Hannah because the Lord had kept her from having children.
According to 1st Samuel chapter 1 verse 7, "Year after year it was the same—Peninnah would taunt Hannah as they went to the Tabernacle. Each time, Hannah would be reduced to tears and would not even eat."
Take a moment and imagine Hannah's pain and emotional state of mind. The Bible says she was "very discouraged." She endured this pain up to the point where she cried out to the Lord.
What situations do we experience in our lives today that leads us to become discouraged? Think about how many people are struggling emotionally, spiritually, psychologically, and physically. In the midst of these struggles—and others not mentioned—there's always a glimmer of hope when we call upon the name of Lord.
Elkanah asked in verse 8, "Why are you crying, Hannah? Why aren't you eating? Why be downhearted just because you have no children? You have me—isn't that better than having ten sons?"
I pondered on these questions, which just seems extraordinary to me. I believe many times God speaks to us through special people in our lives. Could it be that God was talking to Hannah through Elkanah, knowing that God uses different people to talk to each of us in different circumstances? And could this be the turning point where Hannah's faith—and our faith—begin to revive?
It was time, Hannah realized, to rest her problems and focus on the Lord. She cried bitterly as she prayed, and made a vow saying, "O Lord of Heaven's Armies, if you will look upon my sorrow and answer my prayer and give me a son, then I will give him back to you. He will be yours for his entire lifetime…"

This is the turning point and transformation from great anguish and sorrow, to prayers and trusting in the Lord. Hannah did not relinquish her faith. She remained steadfast through it all.
As a result, the Lord remembered Hannah's plea and in due time she gave birth to Samuel, which could mean "God has heard," for she said, "I asked the Lord for him." What a woman of faith!
This story reminds us about the positive effects of perseverance and faith in our lives. As humans, we sometimes become too impatience and want God to respond immediately to our problems. You may have been waiting and praying for so long but have not yet seen the results you expect. Don't give up. Continue to pour out your heart to the Lord.
In life's journey, you might encounter taunts from Peninnah in the form of trials at your job, family problems, and more but as you continue to persevere, read the word of God and pray, there will be a breakthrough. You will experience a revival in your faith and the Lord will remember your plea. He will never leave you nor forsake you. For those who wait upon Him, He will renew their strength———and that's a sermon for another day…
The Lord hears us loud and clear. The question is, when He answers our prayers, do we remember to fulfill our vows? We have to be careful what we promise the Lord because He will take us up on it.
In her prayer, Hannah vowed that if the Lord gave her a son, she will give that son back to Him. It was time for her to be faithful and fulfill her vow, for the Lord was faithful in answering her prayer. She then handed Samuel to Eli, the priest, so he will grow and serve the Lord. Samuel later became the first of Israel's great prophets.
I remember, like Hannah, making a vow to the Lord when I was in a very desperate situation—and, by the way, this had nothing to do with pregnancy.
I was only 13 years old and escaping a brutal civil war in Sierra Leone when I made this vow. The rebels had invaded the capital city, Freetown, where I lived. They had abducted teenagers to fight alongside them and there was looting, and burning down of buildings and properties. Some people were also killed.
My brother and I managed to board the first boat that arrived in Freetown to ferry people out of the country. This was not the fancy ferries or cruise ships one would expect; it surprisingly turned out to be an oil tanker, without any chairs, walls, doors or windows in the passenger section. At least 600 people were crammed in the boat and seated on their luggage, while a makeshift roof, made of tarpaulin, was erected before we departed Freetown.
We headed for neighboring Guinea, but the captain of the boat later announced that the Guinean authorities would not let us in. So we rerouted and headed to The Gambia instead. What presumably was said to be a seven-hour journey turned out to be five horrible days at sea.
We found ourselves deep in the Atlantic Ocean without any trace of land for several days. Things got a lot worse. Not only did we run out of food and water, the captain lost his route, one of the boat's engine broke, and so did the communication system. This meant the captain could no longer communicate with any authorities on land.
The penultimate night was most terrifying. We were hit by very strong winds. Sea waves rocked the boat mercilessly and water kept splashing in on us. People were screaming and crying out loud and many thought the boat would sink.
Extremely nervous and squat in a corner, I remember making a vow in my prayer saying, "Lord, I have so many dreams I want to fulfill in life. If You see me through this ordeal, and not let me die out here at sea, I will make the best of every opportunity You send my way."
I poured out my heart to the Lord. The transformation that was taking place within me revived my faith and my confidence grew stronger, knowing the Lord will save us. He heard my plea, along with hundreds of others aboard that boat who prayed, and rescued us.
Ever since, I've done the best I can to fulfill my vow to the Lord. Otherwise, I know for certain I will not be standing here this morning sharing my testimony and the word of God with you.
With God all things are possible, and that reminds me of Peter's story in Matthew 14, verses 22 to 32.
The disciples were in trouble far away from land, for a strong wind had risen, and they were fighting heavy waves. About 3 a.m. Jesus came toward them walking on water, and they were terrified when they saw him walking on water.
Jesus said to them, "Don't be afraid, take courage. I am here!"
In the midst of our storms, friends, Jesus is saying, "Take courage, for I am here with you.".
Peter wanted Jesus to prove that he was who He said He was. He said, "Lord, if it's really you, tell me to come to you walking on the water." Jesus acknowledged his request and Peter walked on the water toward Jesus.
But when Peter saw the strong winds and waves, he was terrified and began to sink. "Save me, Lord!" he shouted. Jesus immediately reached out and grabbed him, saying, "You have so little faith, why did you doubt me?"
This story reminds me of my own experience at sea. The big difference is, I did not walk on water…. Neither did I attempt to… That would not have been a good idea….
Peter had faith to walk on water but when he saw the strong wind and waves his faith was shaken. However, the Lord was there to save him; his faith was revived, and they climbed back into the boat. Peter and the other disciples then worshipped the Lord.
Whatever situation you might be going through or storms you might be facing, again, I say, don't give up. The Lord is asking you this morning, "Why do you doubt me, when I am here with you?"
Strong winds might rise against your finances—you may have unattended voicemails from debt collectors; you may be facing heavy waves through sickness or family problems. But as you begin to think about God's goodness in your life thus far, you will overcome the storm like Peter and begin to see a glimmer of hope that will lead you to your miracle, just like Hannah. The Lord will never leave you, especially as you bolster your faith in him.
In every instance where I wrestled with my faith, the Lord has been so good to me, and I know He will for you as well. These testimonies constantly remind me of why I should not doubt.
For instance, when I went to university to pursue my bachelor's degree I was deeply worried about finances. Where would I get at least $10,000 per semester to pay for my tuition and fees? I did not have the money. I wasn't sure if I'd make it through this storm. Then less than a month into my first semester, I was granted a full scholarship until I graduate. In addition, God gave me a bonus—a free laptop along with the scholarship.
After I graduated, the usual nightmare of finding a job set the stage. God answered my prayer—I later got a dream job at the General Board of Global Ministries in New York, which I loved. Then in January 2012, I returned to Baltimore to pursue my master's degree.
Again, worries about my finances erupted. I did not have the money to pay for tuition and fees. Just a week before my semester started, I was awarded a graduate assistantship—a twenty hours-a-week campus job, which also meant the university would pay for my tuition and give me a stipend. What a mighty God we serve!
Towards the end of my program in December 2013, I began to worry yet again. I doubted the prospects of getting a job soon, especially as some of my professors and others kept saying the state of the economy would make it very difficult for me to secure a job.
Amazingly, before my graduation, I was invited to Ann Arbor for a job interview. Then about a week or two before the graduation, I was offered the job. And, it wasn't just any type of job. God added His usual bonus this time as well—it was a newly created position in the company I currently work for. Isn't God so good?
In hindsight, I wonder what the Lord may have been thinking about me. I can hear Him saying to me, "Ibrahim, you have so little faith, why did you doubt me?" Every time I think about this, I remind myself I have no reason to doubt.
Friends, after all these miracles—and many you may have experienced yours as well—we are reminded that there's nothing the Lord cannot do for us.

Whatever problems you, a family member, colleague, or a friend might be going through, if you trust the Lord through it all, you will experience a transformation and your faith will be revived.
Jesus said to his disciples in Matthew 21 verses 21 to 22, "I tell you the truth, if you have faith and don't doubt, you can do things like this and much more. You can even say to this mountain, 'May you be lifted up and thrown into the sea,' and it will happen. You can pray for anything, and if you have faith, you will receive it."
Whatever mountains you have in your life today, it may be a medical condition, job, finances, or other, the Lord is saying, "trust in me."
Just as He said in Jeremiah 29 verses 11-13, "11 For I know the plans I have for you. They are plans for good and not for disaster, to give you a future and a hope. 12 In those days when you pray, I will listen. 13 If you look for me wholeheartedly, you will find me."
As you leave here today, prepare your hearts and minds to always reach out to the Lord wholeheartedly and without doubt. If you call upon his name He will answer you. The answer may not necessarily come exactly when you want it. Sometimes the Lord pushes you more than you expect in order to test your faith.
And that's when you remain steadfast and remember that God is greater than any problem you have. Trust in the Lord always, and not let your hearts be troubled John 14:1. Let your faith look up to thee, and He will surely see you through. Amen? Amen!!!
*co-wife
Listen to Ib's Sermon:
Also see: